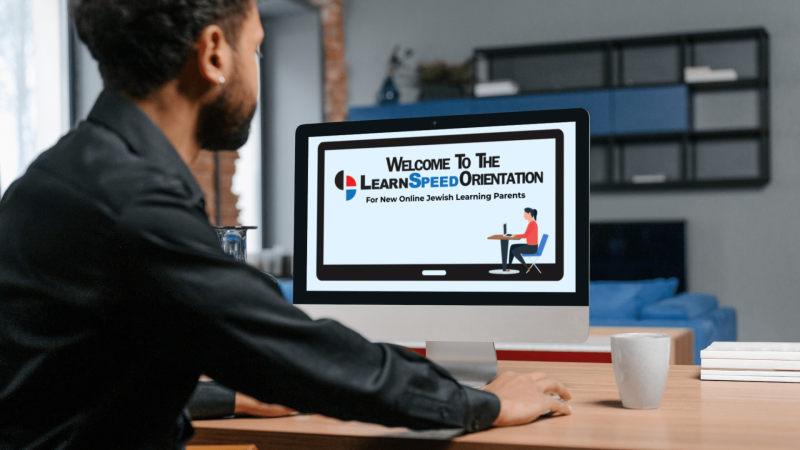 This eLearning course was designed for new OnlineJewishLearning parents who have enrolled their children in online Bar Mitzvah tutoring lessons.  The interactive orientation introduces parents to the LearnSpeed platform.
Responsibilities: Instructional Design, eLearning Development
Target Audience: Parents of New Online Jewish Learning Students
Tools Used:

Articulate Storyline

Audacity
Canva
Google Slides
This interactive orientation course is specifically designed to empower new parents who have enrolled their children in online Bar Mitzvah tutoring lessons. The course provides a comprehensive introduction to the LearnSpeed platform, a powerful tool that facilitates seamless communication and learning management between parents, students, teachers, and administration. Through this engaging learning experience, parents will gain the skills and knowledge necessary to navigate the platform efficiently, access lesson replays, and actively support their child's learning journey. 
This course is tailored for parents of Bar Mitzvah students who are seeking a user-friendly and effective way to engage with their child's online tutoring experience. Whether they are new to the LearnSpeed platform or wish to enhance their existing knowledge, this orientation equips parents with the necessary tools to actively participate and ensure a successful tutoring experience. 
By completing this introductory course, parents gain valuable insights into the LearnSpeed platform and strengthen their partnership with their tutor. The course's interactive elements, multimedia components, and emphasis on self-paced learning make it an engaging and empowering experience for parents, facilitating a collaborative approach to academic achievement and overall growth. 
Enhanced Parental Involvement: By familiarizing parents with the LearnSpeed platform, they can actively participate in their child's academic progress and success, promoting a supportive and collaborative learning environment.
Improved Learning Experience: Learning extends beyond tutoring sessions as parents are equipped with the ability to access lesson replays and reinforce key concepts and home, resulting in better comprehension and retention for students. 
Effective Time Management: Understanding how to utilize LearnSpeed efficiently, allows parents to manage their child's tutoring schedule, keeping them well-prepared for each lesson and maximizing learning outcomes. 
Project Kickoff & Analysis:
Conducted an initial meeting with stakeholders to understand project goals and learning objectives.
Performed a needs analysis to identify the specific requirements of new parents using the LearnSpeed.
Defined the scope, timeline, and available resources for the project.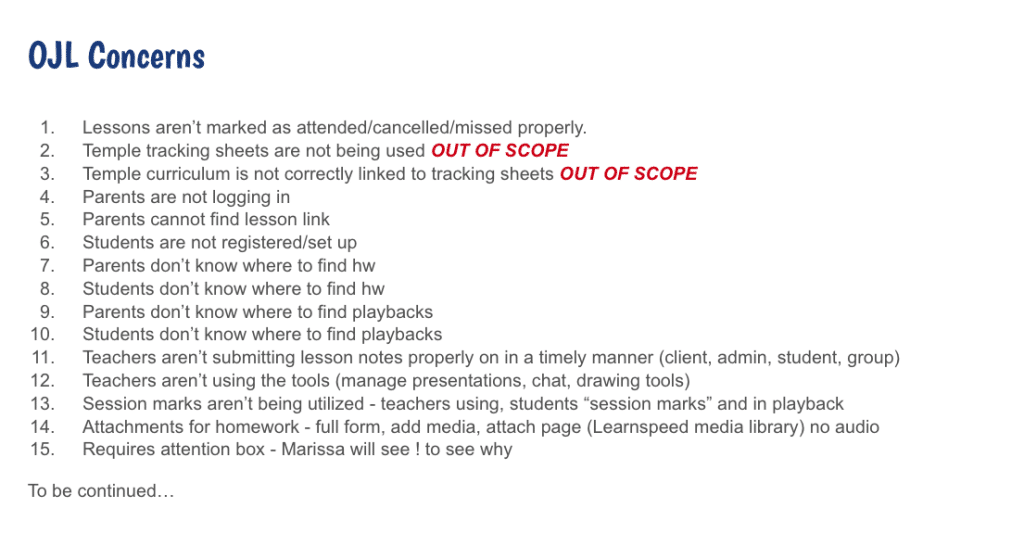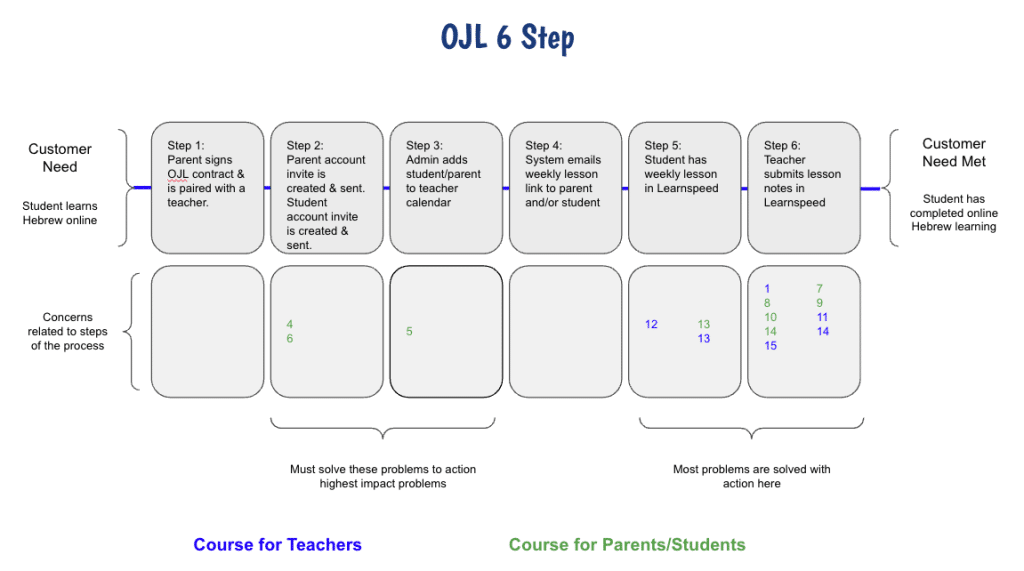 Used action mapping techniques to align the course content with desired learner actions and outcomes.
Identified critical tasks and decisions parents need to make when using LearnSpeed effectively.
Mapped these actions to corresponding content and learning activities.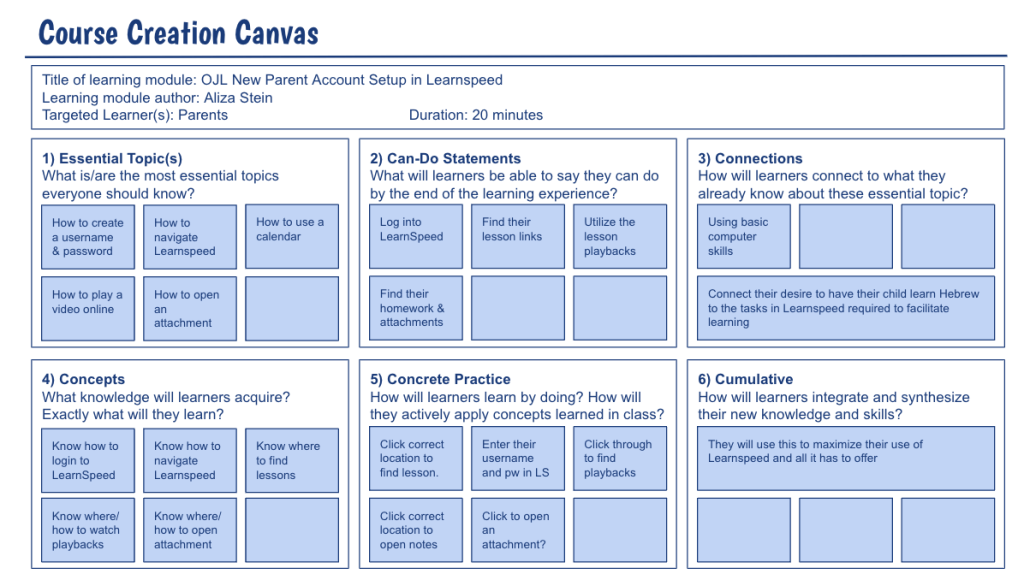 Storyboarding & Content Planning:
Created a detailed storyboard outlining each slide's content, narration, visuals, and interactive elements.
Collaborated with subject matter experts to ensure accuracy and relevance of the course content.
Planned engaging activities and assessments to reinforce learning throughout the course.
Mockup & User Interface Design:
Designed mockups of the course user interface, ensuring a clean and intuitive layout.
Incorporated the color scheme and branding of OnlineJewishLearning.com for consistency and familiarity.
Ensured that visuals and interactions align with Mayer's multimedia principles for effective learning.
Development & Implementation:
Used Articulate Storyline 360 for the course development, utilizing its interactive features.
Developed custom interactions, such as clickable buttons, drag-and-drop activities, and guided navigation.
Integrated multimedia elements, including images, videos, and audio to enhance learner engagement.
Used Canva to create a visual aid to assist parents with step by step instructions for future reference
Quality Assurance & Testing:
Conducted thorough quality checks to identify and resolve any technical issues or inconsistencies.
Ensured that all interactive elements, links, and assessments function correctly.
Conducted user testing with a small group of learners to gather feedback and make improvements.
Revision, Refinement & Review:
Incorporated feedback from stakeholders, and learners to refine the course content and user experience.
Made adjustments to enhance the clarity, flow, and visual appeal of the course.
Conducted a final review to ensure all aspects of the course met the project's objectives and requirements.
Prepared documentation and instructions for seamless delivery to learners.
Launched the course for new parents enrolling in Bar Mitzvah lessons.
Monitored learner progress and engagement through analytics and feedback.
Evaluated the course's effectiveness in meeting learning objectives and made data-driven improvements as necessary.
Monitored the course performance and made necessary updates based on user feedback and platform changes. 
Ensured that the course remained up-to-date with the LearnSpeed platform's latest features and improvements. 
Throughout the process, the course was designed with a focus on engaging new parents, promoting effective learning, and ensuring a positive and supportive experience as they prepare for their child's Bar Mitzvah journey.